Looking back at the 70th anniversary of the founding of the People's Republic of China, tremendous changes have taken place in China's economy and society. With the rapid development of national economy is accompanied by the continuous expansion of the total consumption demand of the broad masses and the continuous optimization of the consumption structure. The consumption upgrading of Chinese residents is an important part of China's economic rise. Under the wave of consumption upgrading, the revolutionary upgrading of "from nothing to something" and the improvement upgrading of "from something to something" have taken place in many areas of the domestic consumption market.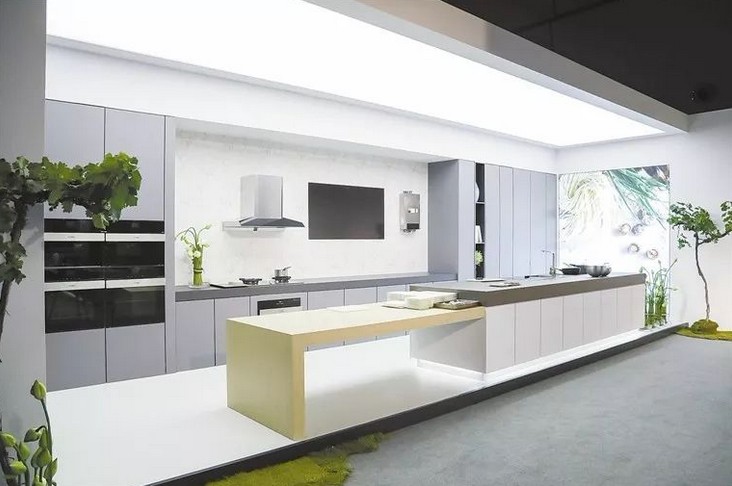 The graph is too intelligent home scene.
"People take food as day", the kitchen as one of the most important places in People's Daily life, just bearing the time changes, consumption upgrade brought by the upgrade of happiness. Chinese kitchen electric enterprises are helping Chinese families to realize the leap to a higher quality of life. As one of China's three important section of small home appliance, kitchen appliances in China "create" cixi almost covers the national bureau of statistics of the national economy industry classification and code "hutch defends each category small appliances, mainly including intelligent kitchen appliances, water purifiers, induction cooker, blender, microwave oven, electric cooker, electric kettle, juicer, food processor, soybean milk machine, bread machine, etc. Especially intelligent kitchen appliances, water appliances most prominent.
Domestic kitchen electric industry first brand square too, from the deep of the first independent design type oil absorption, the embedded specialized kitchen electrical, to lay near suction and European machine "double machine king" market position of the new generation of intelligent lampblack machine "enchants party" and "cloud" rubik's cube, as well as the world's first tank dishwasher, etc., to make high-end products always revolve around the user experience. Water purification regional brand nationwide look at zhejiang, zhejiang look cixi, there are zhejiang water purification equipment association President enterprise qinyuan, vice President, director of enterprises and member units ding 'an, runxin, ai port, langmu, qi xi, long wei, etc. accounted for half of the country, they all use innovation strength to promote the Chinese kitchen three times to upgrade. Not only expert, but also zhuoli electric sandwich stove, kaibo electric toshi stove, hongyi group juicer, juicer, food processor, jisheng stove and so on. Science and technology gives can kitchen "ego is awakened", from the product refraction gives cixi home appliance to be opposite in different times change hutch report industry to lead a gender, what make a person interesting more is the culture self-confidence that the refraction gives behind this kind of innovation track and "times story".
Back in the 80s and 90s of the early stage of reform and opening up, the domestic appliance market was almost in a state of poverty. People are used to cook, boil water to rely on the mode of self-reliance completely, every kitchen still did not get rid of by the earth stove, firewood, smoke to bring "human kitchen smoke". In contrast, this period has become the most brilliant 10 years for foreign brands to explore the market and popularize home appliances in China. This not only successfully opened people's new understanding of life -- the importance of functional home appliances to improve and improve the quality of life, but also promoted the germination of a large number of Chinese home appliance enterprises.
MAO zhongqun, chairman of fangtai group, recalled the start-up scene in front of me: "when I was doing market research in that year, I found a phenomenon: in the Chinese home appliance market, high-end brands are all foreign brands, while domestic brands focus on middle and low-end price wars. At that time, a dream arose in my heart: to build the first high-end brand in China." He once expressed fang tai's determination to build a high-end brand in one sentence: if you want to turn your products into high-quality products, you can never do one thing too much in your life.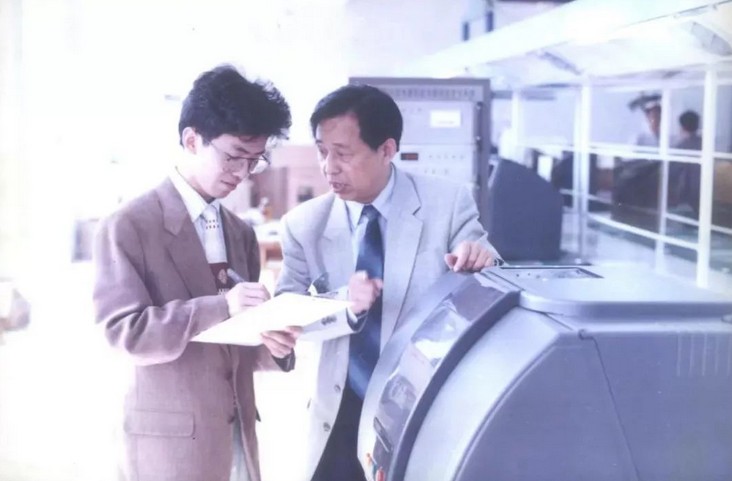 In 1996, the first fang tai lampblack machine came out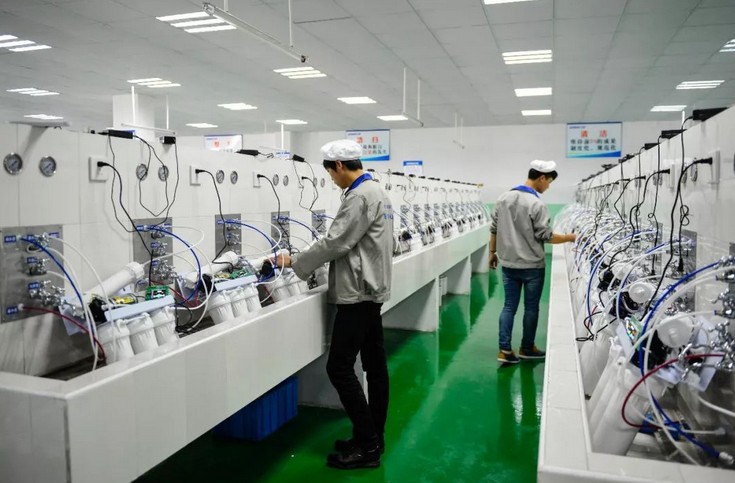 Workers at longwei environmental technology co., ltd. test a new generation of reverse osmosis water purifier without wastewater discharge on the production line.
"Products are strong enough to require core technology; Strong personality and corporate responsibility." Mr. Long said that after 10 years of business, he still remembers an order for 220,000 yuan in 2007. "Because the voltage and frequency of the products do not match, it is difficult for foreign customers to sell." Without saying a word, Mr. Long said he paid the client 110,000 yuan in compensation. After the matter spread, longwei technology reputation, foreign orders have been flying. Naturally, the customers who get the compensation become one of the stable big customers, and the money earned by longwei technology also magnifies dozens of times, and the multiplier effect of honest operation is very significant.
"After more than 10 years of market baptism, I know very well that if an enterprise wants to go further, it must stick to integrity and ensure superior product quality." Long wei he always said, long wei since the establishment of the day, the "eternal integrity" as the core values of the enterprise, do not let the products do not meet the standard flow to the market, never greedy for money to sell, this is the basis of longwei science and technology integrity management.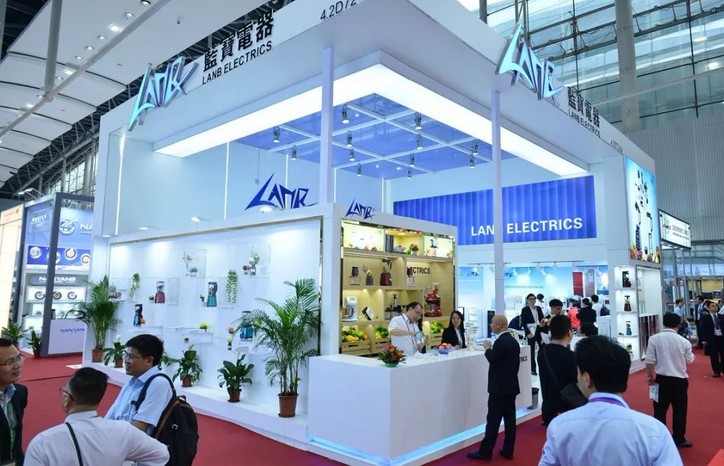 Lanbao electric appliances are favored by Chinese and foreign consumers at the Canton fair.
In 1995, MAO zhongqun found two undergraduate students majoring in industrial design from zhejiang university and conducted more than 500 questionnaires in various parts of the country. After A whole year's struggle, fang tai "model A machine" has A solution: it is equipped with A circular arc type smooth close smoke hood, making oil droplets more easily in the smoke machine edge collection; Secondly, smoke hood and motor separation, users do not have to worry about electric shock under the circumstances, can easily remove the smoke hood down. The unit price of 700 yuan or so "type A machine" finally fired the first gun, selling 30,000 units in the year it went on sale. At the beginning of the establishment, it is the original industrial design and the leading technology behind it that make fang too lag behind.
Find the right direction, fang tai continue to go original research and development of high-end products, have launched "Q machine", "T machine" and other more powerful, more fashionable appearance of the lampblack machine. 1999, MAO zhongqun is on the kitchen exhibition in Germany what jing yu ou lampblack machine is concise atmosphere, but the lampblack that discovers ou shi kitchen is inferior to Chinese style kitchen big, the suction force of its lampblack machine is lesser also. After returning, he immediately to take the lead of Europe type lampblack localization improvement, the development of "European appearance of Chinese core" lampblack machine, the high level appearance appearance and is more suitable for Chinese kitchen heavy oil smoke filling, improved the European product defects such as small suction, oil is not reasonable, meet the users demand for products with beautiful "+" function. In the first two years of its launch, the market share of fangtai range hoods was close to 100%.
Original innovation opens the door of brand. With fang tai has the same story is the cixi water fountain industry rise. From 1995, when cixi initiated the first water dispensers in China, to 2010, when it reached its peak, it was called "the golden 15 years of water dispensers industry". Cixi kitchen electricity thus opened the brand era of Chinese home appliances: in 2005, fang tai lampblack machine first won Chinese famous brand, then fang tai became the city's first administrative recognition of household appliances class China well-known trademark. In 2007, fangtai kitchen, qinyuan, wave wood, qidi and other three water dispensers won a famous brand in China. Among them, the brand of water dispensers accounts for 3/4 of the country, and the cixi water dispensers deserve the first place in the production and marketing of the country.
As the further promotion of living standard and aesthetic consciousness, people also begin to tend to be changed and integrated on the choice of hutch report. Should need to appear on the market a batch of "become a set to change" hutch report product, however just a few products collocation of material qualitative exterior close are together mostly "bind" sale, lack from design concept to functional combination "original design", cannot satisfy the advanced demand that user pursues quality.
"Small space, big function." 2008, square too released China's first case of embedded specialized kitchen electric "silver 5 series", breakthrough embedded module design, more complete cooking function configuration (+ kitchen is provided, lampblack machine and embedded disinfection cabinet to join embedded oven microwave oven), not only satisfy the users' demands for quality of advanced kitchen, also demonstrates to the industry should have the appearance of "quality kitchen" -- in addition to the appearance of harmony, should pursue function unity within, led the Chinese family entered the kitchen 2.0 era.
Water appliances version 2.0 has achieved a new leap from the "drinking" era to the "clean" era, and water purification equipment has become a new "growth pole". Zhejiang qinyuan water treatment technology co., LTD., as the initiator in 2004, opens the "golden 15 years" from 2010 to 2024. Qinyuan founder andreassen g when it comes to the main power of rapid rise high growth with confidence and expectation: "the market fundamentals from the macroscopic view, water purification equipment industry as a sunrise industry of national economy and people's livelihood relations, on the one hand, with the rapid development of China's economy, people life level and consumption ability grows, puts forward higher requirements on drinking water health, demand is more and more big; On the other hand, environmental pollution has become more and more serious in recent years. Therefore, the rapid development of the water purification industry is irreversible.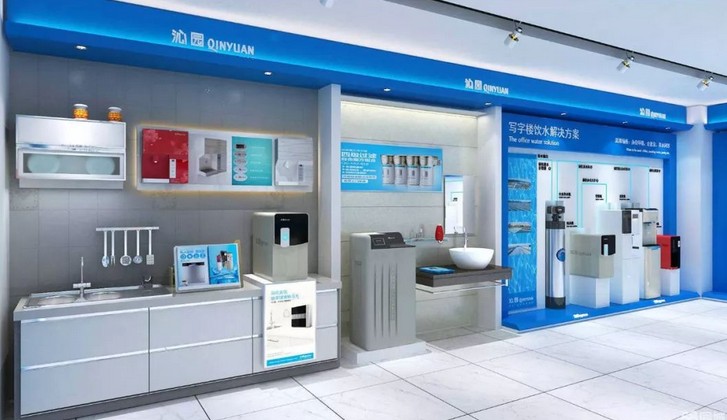 In this kind of breakthrough leap, qinyuan founder andreassen g lead enterprise is playing the lead in stimulating, qinyuan is the industry standard formulation, patent for most enterprises, the most of its "energy-saving drinking water depth treatment series equipment research and development and industrialization" projects, with the first complete unit in the industry first won the 2008 national scientific and technological progress second prize, also established the leading role in the enterprise in the water treatment industry in our country. Today, andreassen g in original qinyuan group was established on the basis of yong chao industry, focusing on the field of water treatment and environmental friendly, after 21 years of development, it has formed a comprehensive utilization of water resources, water environment comprehensive treatment, water ecological comprehensive protection, environmental sustainable development and living environment of the electrical appliances in the field of industrial clusters. At the same time, its yongchao capital also directly and indirectly participated in more than 100 emerging industrial enterprises.
According to zhejiang water purification industry association secretary general, qi xi shares chairman fang shuguang introduction, qinyuan, water art, ding 'an, qi xi, runxin, ai port, ford en, long wei and other chain chain supporting enterprises linkage power "across the line piaohong". Now the national sales of 20 billion, cixi annual sales of complete machines accounted for 1/3 of the national sales, zhejiang half; Industrial chain configuration manufacturing capacity is more than half of the country, formed with more than 100 complete machine production enterprises and hundreds of supporting enterprises industrial clusters, become the main production base of water purification equipment and water purification brand enterprises gathering place.
From the "Internet +" proposed in the government work report of the two sessions in 2015 to the "intelligent +" proposed in the government work report of the two sessions this year, standing at the draught of industry 4.0, smart home appliances have become a new blue ocean. With the rapid development of intelligent technology and mobile Internet industry, the home appliance industry is facing unprecedented opportunities for transformation. On the technical side, the rapid development of big data and cloud platform has brought the vigorous development of intelligent home appliances. On the user side, intelligent technology has a profound impact on the user's life style, and users' demand for smart home experience has been awakened.
Our city electrical appliances industry leading enterprises have grabbed the smart technology "tailwind", grab the Chinese kitchen 3.0 intelligent tuyway, and lift the wave of "multiple categories of collaborative development", bring unprecedented intelligent experience for users. On the Chinese home appliance and electronic consumption exposition held on March 14-17 this year (AWE), square too, cixi home appliance pavilion, magic egg, AI port and other kitchen electric enterprises and platform overall attack, show AI (artificial intelligence) under the power of smart home appliances, smart home, smart family "big change".
As the leader of high-end kitchen electricity industry, fang is undoubtedly the one with the most right to speak, released this year including sink dishwasher Q8, intelligent wind devil side lampblack machine JQ01TC, hidden type wisdom control stove TCCA, a number of new products, blowing kitchen electricity intelligent whirlwind.
Fang tai sink dishwasher has become the new leading role of intelligent kitchen electricity, realizing the Chinese kitchen from hand washing to machine washing, leading people from "eat full, eat well" to "eat healthy, eat at ease, only mouth do not start" wisdom era fast forward, creating a new channel of Chinese kitchen before and after meals healthy machine washing era. As a sink original inventor, corporate r&d team leader in back from 0 to 1 remember when cross-border innovative hard and not easy road: "in five years time we visited 25 cities of more than one thousand households, on an average day 3, 274 times during the project, seminars, more than 150 design hundreds of patents, finally condenses into water trough the dishwasher tailored specifically for Chinese family kitchen electrical products."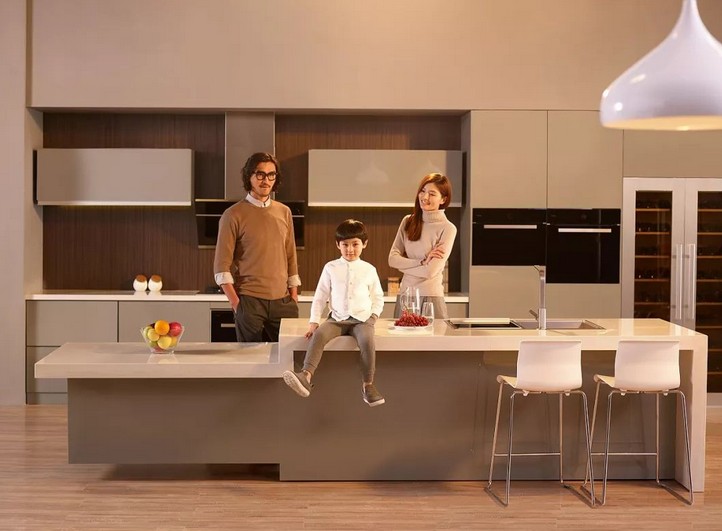 Fang tai intelligent kitchen electric lampblack machine leading the leading. On the basis of inheriting the excellent lampblack performance of the previous generation of lampblack series lampblack machine, the intelligent function of "voice control" is added, which interprets the humanity heart of "starting from user experience" with humanized details. Not only does it provide users with a "no action" mode of control, but also can recognize local dialects. Give timely feedback and remind when the old man mistakenly operates the lampblack machine, giving you more possibilities of voice interaction. And the intelligent lifting lampblack machine that exhibited last year realized the intelligence that rises and falls along with lampblack size, take lampblack machine at one stroke "unmanned drive" times, brought for the user "just right" intelligent experience.
In this technology booth directly facing the world, magic egg intelligent through four living Spaces, N intelligent scenes, to show the audience an intelligent home appliance solution for the Internet of things. In the booth of contemporary and contracted style is revealing full science and technology fan, appear on the stage attracted the eyeball of many people. Booth, the audience through the simulations live demonstration experience, experience is not only home appliance and function, but also health adviser, security butler, is air, quality life, wisdom is a steady stream of information interaction, intelligent home appliances safe &conve-nient complete content couplet on the smart home solutions, open intelligent life journey.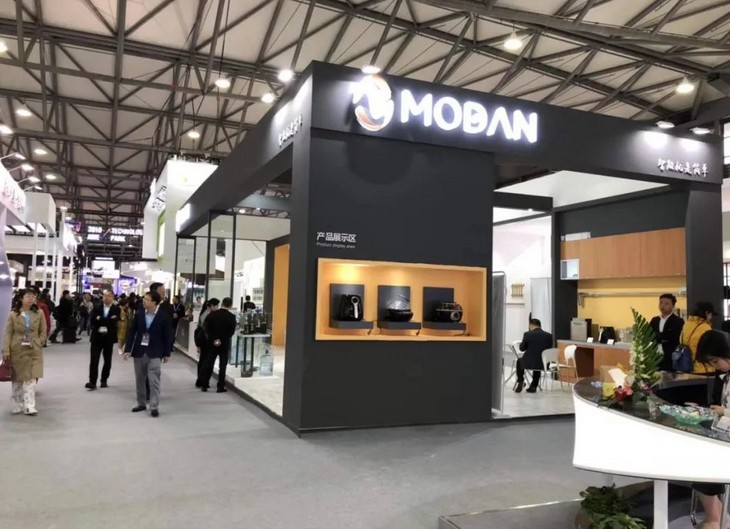 Jubilee learned, praying to the magic egg platform companies accurately grasp the "smart union, data driven" home appliance industry development direction, the Internet of things, intelligent home appliances open sharing platform model, using the platform of "one core (circuit board), a key (scenario), a chain (cixi household appliance industry)" function, on the development of small micro enterprise cliques. Through the intelligent transformation of household appliances, cixi has promoted the transformation and upgrading of more than 2,000 complete machine manufacturers and millions of national agents, integrated into the big market of the national smart home industry, cut into more cakes of the Internet of things era, and has cooperated with more than 90 household appliances enterprises so far.
With unique product innovation, brand innovation, cultural innovation "three big innovation", created acceleration, high quality "fang tai legend". Chinese hardware products association director shi sanglan in the summary of the development of Chinese kitchen fang tai road so thumb up: "fang tai so many years of strong double-digit growth, due to continuous innovation. No innovation, no sustainable growth, no technology, no boutique, no brands."
As of February 2019, fangtai has owned nearly 2,400 patents and nearly 400 invention patents, making it a worthy leader in China's kitchen electricity industry. Up to now, fang tai has led and participated in the preparation and revision of more than 90 industrial, national and international standards, and joined the "international electrotechnical committee (IEC)" as the only representative of the Chinese industry in China to participate in the formulation of international standards for range hoods. At the beginning of December 2017, the sub-technical committee of domestic water treatment equipment of the national technical committee of household appliances standardization was established.
Brand king, innovation leading, standard winning. Whether in May 2006, our country home appliance standards by the relevant government departments and scientific research units to enterprise subject in the first round of market-oriented reform, or a new round of industry standards as the current reform of improve the quality of the real economy supply system of a main direction, zhuhai kitchen electric enterprises forefront, grab the new heights.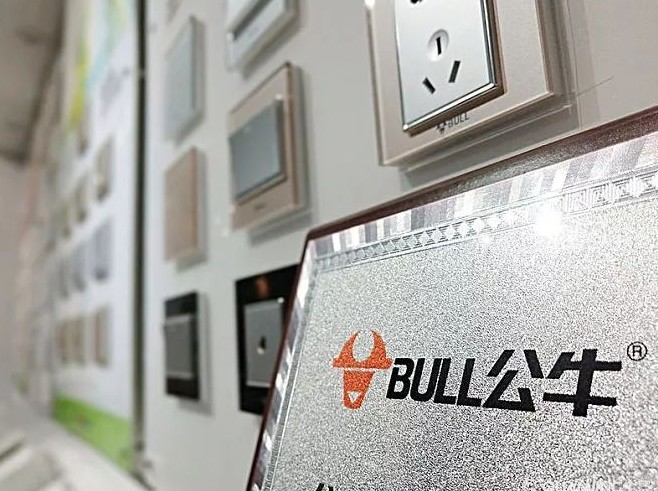 The national standardization technical committee secretary of home appliances, the international electrotechnical commission for household and similar electrical committee vice chairman Ma Dejun thumb up for this: "China is humongous, face the challenges of the world's most complicated environment, the industry standard in our country through the guidance of the government and enterprises, ten years, from to run, and run to lead leap, now the world's most perfect system, cixi square too, the bulls, qinyuan, pioneer, water art made tremendous contributions to the led industry. Now, the opening of a new round of standard, will revolve around two most GuanMinSheng clearance, water purification, these enterprises' health, environmental protection, intelligent, products' concept, leading the industry standards set by a single variety, fragmented state, to a higher level system of concentration and integration of the international and domestic new normal leap." Ma dejun is the witness and innovator of cixi household appliances from small to large, from weak to strong for more than 30 years.
Ten thousand horses gallop ahead. With fangtai as the leader, cixi kitchen electric plate sets up energy-saving, intelligent and embedded weathervane, and continuously creates a new era of Chinese kitchen from tradition to modern, from scale to integration, from quality to wisdom!
| cixi daily all - media reporter lu yi was lu's hope